Faces of South: Gary Green, Homeless Veteran Finds Support System at South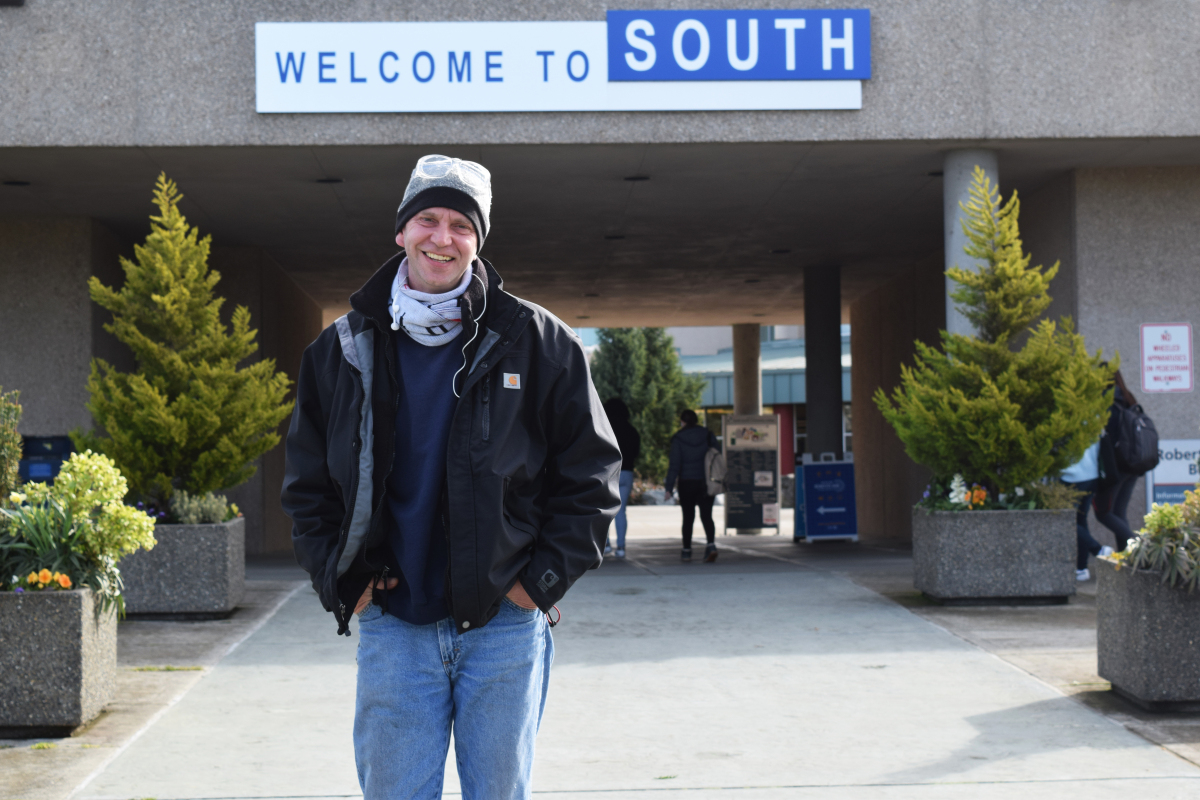 For South Seattle College student veteran Gary Green, stepping foot on South's campus last year meant returning to college after a 21-year gap, and setting himself on a path to a better future and a better life.
"Walking into that classroom on the first day was pretty surreal," says Gary, who enrolled in South's First Step program in January 2017. The program helps students build a foundation in English, math, computer and college success skills before enrolling in a program at South. "One of our first assignments was to create oral presentations around a topic. I chose to talk about the stigma and stereotypes surrounding veterans, something I've dealt with and seen almost my whole life."
Born into a family of Navy veterans, Gary first joined the armed forces at the suggestion of his father in 1988 after graduating high school. At that time the new Montgomery G.I. Bill offered active duty members the opportunity to save money for college while serving. Much to his father's dismay, Gary chose to enroll in the U.S. Marines instead, hoping to travel the world.
"The whole process was fast. I talked to a recruiter on Monday, took the aptitude test on Wednesday, was sworn in on Thursday and shipped-off on Friday," says Gary. "While I was in the Marines I did a lot of engineering work, and I really wanted to keep up with mechanics and current technology."
During his tenure in the military, Gary spent time in Bremerton, Wash. and the Great Lakes region before settling in California to work in the legal copy services business. After the passing of his grandfather, he decided to move back to Washington state to be closer to his family.
"When I got out of the Marines I was 26 and started working little podunk jobs in fast food and throwing freight in a warehouse," says Gary. "I remember one day my dad saying, 'Kid, you've got to do something!' So I took my G.I. Bill to Green River College and enrolled in their welding program."
For Gary, whose father was a longtime, second-generation Boeing employee, welding seemed like the chance to follow in his father's footsteps, and a way to leverage his knowledge of mechanics and engineering. Unfortunately, halfway through his time at Green River College he decided to drop out after his industry sponsorship fell through.
"After dropping out of that program I faced a lot of tough breaks in my personal life, and due to a series of events I ended up homeless down here in Seattle," says Gary, who has since found temporary housing. "On top of everything I ended up having to undergo knee surgery. During the recovery process I decided I wanted to come back to school and finally finish up my degree I started so many years ago."
Since beginning the Welding & Fabrication Technology program at South, Gary has found a support system in the Veterans Student Center on campus. The center supports student veterans in all aspects of their academic life, from connecting them with on-campus resources to creating veteran study and support groups to assist veterans as they transition from military to campus life.
"The connections I've made through the Veterans Student Center are why I am here today," says Gary, who points to Terry Powell, South's VetCorps Coordinator and John Phillips, former Veteran Transition Specialist as his main advocates on campus.
"Terry and John supported me every step of the way. When they found out I lost my housing halfway through Winter Quarter and was planning to drop out, they were making phone calls and made sure I knew of the services available to me at school. They really went above and beyond to find me housing. That's been big. I was also introduced to Workforce which has helped me pay for my education."
Twenty-one years in the making, Gary now plans to graduate with his associate degree in welding at the end of Spring Quarter 2018. After graduating he plans to obtain a position in the manufacturing or construction industry in a lead or supervisor role. He hopes his story inspires the next generation of student veterans to pursue higher education, and a reminder of the power of perseverance.
"In the military, you were willing to do whatever it took to get the job done," says Gary. "College should be no different; work hard, know what resources are available to you and find your advocates on campus."