Dr. Rosie Rimando-Chareunsap Named Next President of South Seattle College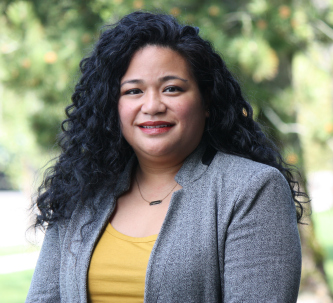 Seattle Colleges' Chancellor Shouan Pan announced Dr. Rosie Rimando-Chareunsap will serve as the next president of South Seattle College (SSC), effective July 1, 2018.  Dr. Pan's decision came after a nationwide search and consideration of feedback from multiple sources.  
Rimando-Chareunsap has been with SSC since 2000 and currently serves as vice president of student services.  She will succeed Interim President Peter Lortz and Gary Oertli, who retired as SSC's most recent president in August of 2017.
"Dr. Rimando-Chareunsap is uniquely prepared and qualified to lead South Seattle College," Chancellor Pan said. "The college has a proud history and the collective power to overcome future challenges and seize new opportunities. Rosie's commitment to SSC and student success, her passion for equity-minded leadership, and her sensitivity to people and attentiveness to the task position her well to lead SSC at this time."
With a B.A. in English and Ethnic Studies from Washington State University and an M.A. of Public Administration from University of Washington, Rimando-Chareunsap earned her Doctor of Education in Higher Education Administration from WSU. Her roles at SSC have included director of student outreach, associate dean of student achievement and vice president of student services.
Beyond SSC, Rimando-Chareunsap serves on the Executive Committee of the Washington State Student Services Commission, White Center Community Development Association Board, and the Seattle University Student Development Administration Advisory Board. In addition, she serves as Secretary of the National Asian Pacific Islander Council of the American Association of Community Colleges.
"I am honored and humbled to take on this leadership role for South Seattle College, especially after 18 years as a member of this community of dedicated and passionate educators," Rimando-Chareunsap said.  "I look forward to serving our students, communities and city from this position, and helping SSC be at the forefront of transforming the lives of our diverse neighbors."
Full Bio for Dr. Rosie Rimando-Chareunsap
Dr. Rosie Rimando-Chareunsap has been serving the students and community of colleagues at South Seattle College since 2000, when she started as a Student Success Specialist in the TRiO Educational Talent Search and Upward Bound programs, working with first generation college-bound youth in the area.
Since then, Rosie has maintained her focus on serving underrepresented students and increasing the college's capacity to support diverse populations through her leadership work in Outreach, Advising, various federal grants, and most recently at the executive level as South's Vice President of Student Services since 2012. Rosie is also a recognized collaborative leader and colleague across the Seattle district, and in the area, having served as a board member for the White Center Community Development Association, and working collaboratively with various local organizations.  Currently, Rosie is lending her leadership in the city-wide effort to implement Mayor Jenny Durkan's ambitious Seattle Promise program by representing the colleges in this effort and serving on the City's Design team to implement the work.  Seattle Promise is largely modelled after the 13th Year Promise Scholarship Program, started by the South Seattle College Foundation in 2008.
In addition to her leadership at South and locally, Rosie has been a leader on a statewide level serving on the executive committee of the Washington State Student Services Commission, where she has emphasized a focus on equity across our statewide system by leading statewide efforts supporting DREAMer students, and other efforts to strengthen equity approaches in student affairs. Nationally, Rosie is also recognized for her leadership and commitment to equity, having been invited to speak on numerous occasions about her experiences in Guided Pathways leadership and weaving equity into that work, as well as about her experiences as a woman of color in higher education leadership. She was nominated twice for the prestigious Aspen Presidential Fellowship program by leaders of national community college partnership organizations.
Rosie is a South Seattle College Otter through and through, and also a proud WSU Cougar. She has earned a B.A. in English and Ethnic Studies from Washington State University, a Master of Public Administration from University of Washington, and a Doctorate of Education from WSU. Most importantly, Rosie is a dedicated family woman, the proud partner of a two-time South graduate (A.A. and B.A.S.), mother of one South Child Care Center preschool graduate, and another currently in South's Child Care toddler program. She has deep roots, as well as many branches and leaves here at South and in our West Seattle and White Center community.