Gov. Inslee Unveils Aerospace Manufacturing Study Results at South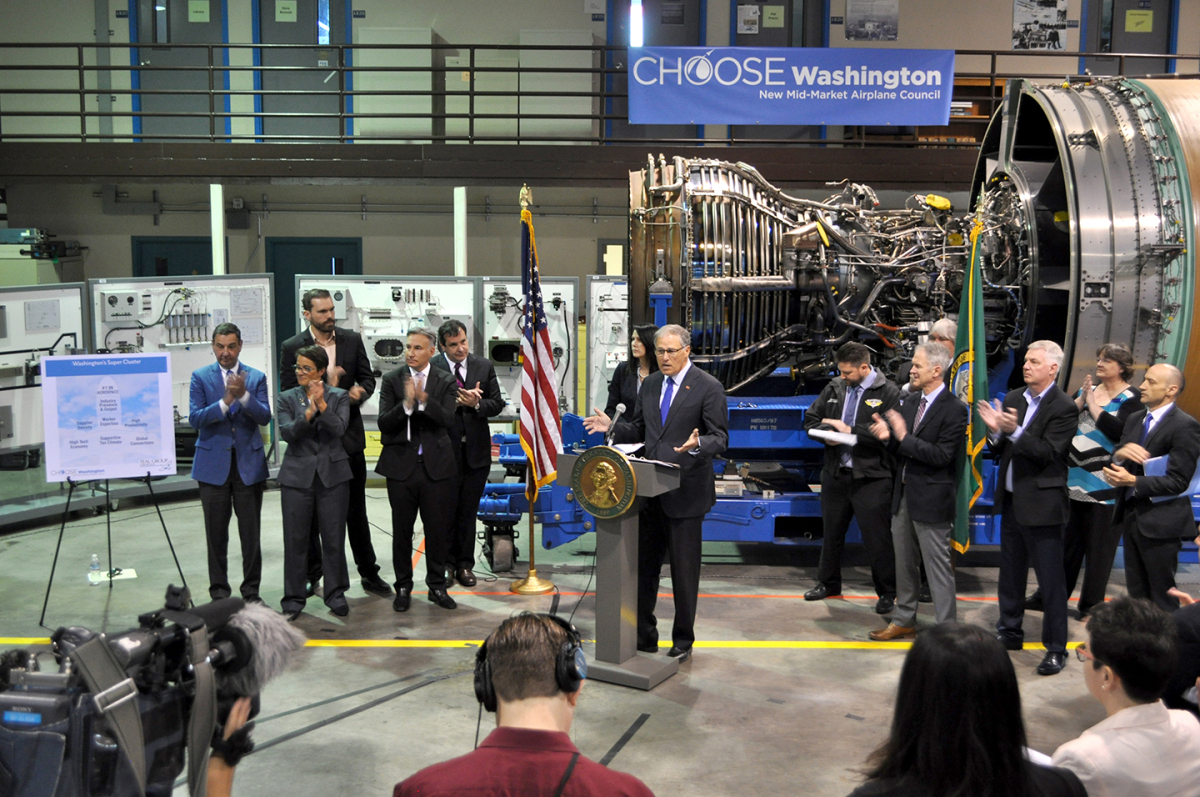 South Seattle College's Aviation Maintenance Technology program hangar – where students are trained every day for family-supporting careers in the aerospace industry – was an ideal location for Washington State Governor Jay Inslee and others to unveil an independent report that found our state is the "most competitive in the U.S. by a wide margin for aerospace manufacturing." The event was held on June 6, 2018.
According to the Choose Washington NMA Council (created by Gov. Inslee to lead a statewide campaign to demonstrate Washington's position as the best site for Boeing to build their next aircraft, dubbed the "New Middle-Market Airplane"), Washington is the most competitive location in the U.S. for aerospace design and manufacturing based on a Teal Group report that looked at 41 metrics in every state and the District of Columbia.
"Washington has an aerospace supercluster like none other in the country," Gov. Inslee said, with a Boeing engine as his backdrop and flanked by several VIPs, including South's Dean of Aviation Kim Alexander and King County Executive Dow Constantine. "The Teal report shows that by any measure, Washington is leading the way and offers the most competitive environment and workforce for companies seeking to build world-class planes."
King County Executive Constantine, a West Seattle local, took to the podium next and discussed South's role in providing training that will keep our state on the forefront of aerospace manufacturing.
"One of Washington's strengths is the top-tier training future aviation technology professionals receive through our community and technical colleges," he said. "Here at South Seattle College, for example, they offer a fast-track 'Airframe and Powerplant Seminar' in partnership with industry, workforce development and Joint Base Lewis-McChord to train transitioning or retiring service members and veterans with aircraft maintenance experience for civilian careers. Working closely with aerospace industry leaders, South Seattle is doing an excellent job preparing the next generation of aviation maintenance professionals for fulfilling careers."