Student Spotlight: Allegra Keys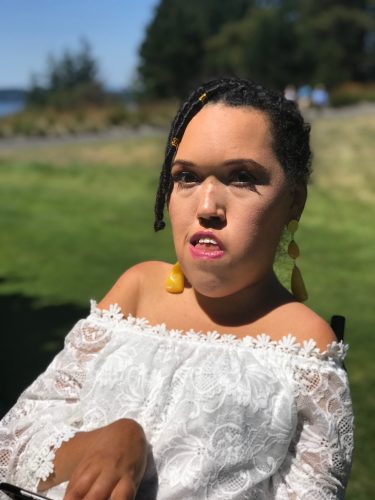 South Seattle College student and 2020 University of Washington Martin Family Foundation Achievement Scholar Allegra Keys has defied all odds to reach her goals. A native of Seattle's Central District, Allegra was born with a degenerative neuromuscular disease which had a life expectancy of only two years. Allegra fought the prognosis and has since gone on to excel in her studies. 
In 2010, Allegra graduated high school with honors and was on track to become the first person in her family to go to college. After a life-threatening hospitalization before beginning her freshman year at the University of Washington however, Allegra made the difficult decision to drop-out of college after two quarters to focus on her health and happiness. During this time Allegra's writing talents flourished, with her work being published in several esteemed literary journals.  
After several years, Allegra decided to enroll in classes at South to complete her degree, and now expects to graduate in June of 2021. She plans to transfer to the UW to study creative writing and achieve a bachelor's degree in English, with the final goal of earning a Master of Fine Arts. 
We asked Allegra about her experiences as a student at South, her goals and dreams for the future, and any advice she has for students facing similar hardships as they pursue their degree at South and beyond. 
Can you tell us about your background and path to becoming a student at South Seattle College? 
I was always a great student and graduated high school in 2010 with honors. When I was accepted into UW there wasn't a question of whether or not I would go; I had the grades, scholarships, and I was slated as a first-generation college student for my family. So I went, even though the timing was wrong, and I eventually ended up dropping out. After years of accomplishing goals within my personal life I decided it [was time to enroll back in college]. 
What are you studying and what are your future professional plans?
Right now I'm partway through my Associate of Arts (AA), and I plan on one day getting my Masters of Fine Art in creative writing. 
Congratulations on becoming a Martin Family Foundation Achievement Scholar, supporting your transfer to the University of Washington in 2021. How will the Martin Achievement Scholarship help you continue your education and support your success? 
Graduate school doesn't have as much free money allocated to it as undergrad. So while I'm pursuing my bachelor's degree, any excess money is going into savings toward graduate school. 
What advice do you have for other students thinking about applying for this or other scholarships?
Be honest about your struggles. I almost didn't apply for the Martin Achievement Scholarship because I had dropped out of UW all those years ago and was embarrassed. But going back to school shows tenacity which scholarships like. Also, set aside a regular time to do scholarship applications. I like knocking them out during breaks.  
What has your experience been working with South's TRIO Student Success Services Office?
TRIO has been great. Marcia Kato (Student Development Specialist) was the one that actually recommended I apply for the scholarship. I wish I had known about TRIO the first time I was in college because it's a great resource. 
Many of our students are navigating online classes for the first time since the pandemic forced our education system to remote operations. How has that transition gone for you and are there aspects of online learning that have been positive? Do you have any advice for students on how to succeed with online learning? 
I have done online classes prior to COVID, so I haven't had a hard time transitioning, though I do miss actually seeing people. I try to do my class work and studying at the same time everyday like I'm actually going to school. Routine helps me stay focused and motivated. 
As an already accomplished and published writer, what inspires you to write and why did you choose this career path? 
As someone with a severe physical disability, I figured out that writing was one of the few ways I could change society's perception of me. That's why I want to be a writer. 
You shared with the University of Washington that the voices of marginalized populations – women, people of color, and people with disabilities belong in the literary world. As a nation we are seeing the Black Lives Matter movement bring the vital importance of dismantling systemic racism and ending the marginalization of these voices to the forefront. What are your thoughts on how this movement can bring change and elevate these vital voices?
As someone who is half black I am really hoping that this moment isn't short lived. It's been a long time coming, all our problems didn't go away after the Civil Rights Movement, and I'm really hoping now that people are willing to have these difficult conversations that change starts occurring. 
You have overcome incredible hardships to continue your education and find yourself as a writer. What advice do you have for other students overcoming challenges in their lives to earn their degree and pursue their passions?
It's okay not to do stuff on the same timelines as the people around you, or even when you're loved ones expect you to do stuff. I have gotten a 4.0 three quarters in a row and I don't think I would have been prioritizing the right things at age 18 to accomplish that.