Staff Spotlight: Vy Pham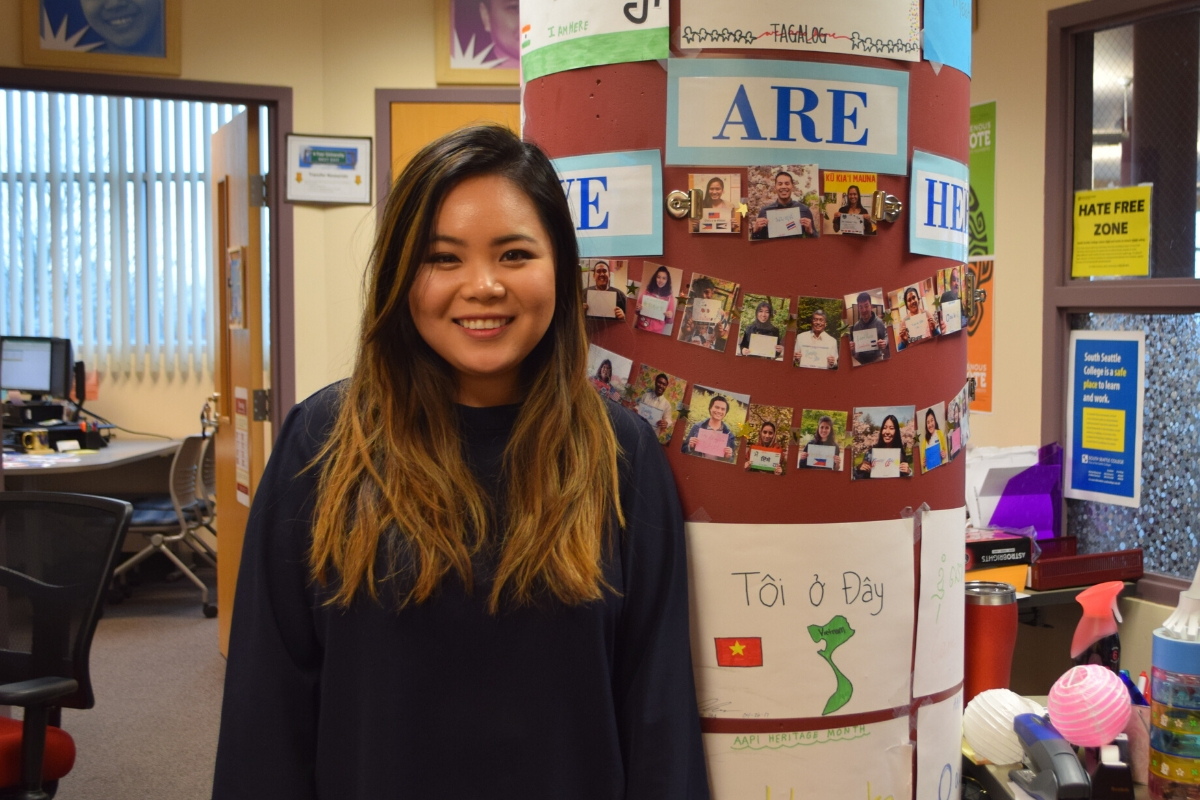 In an occasional series highlighting staff and faculty who help make South Seattle College a great place to learn and work, today we introduce you to Vy Pham, Student Success Specialist in the AANAPISI Center.
As a first-generation transfer student at Irvine Valley College, Vy Pham can remember the stress and responsibility of juggling work, school, family and a personal life…all while preparing to make the big leap from community college to a four-year university. Every weekday she would clock-in early at a local high school where she worked 30 hours a week as a special education assistant before heading to campus for back-to-back classes until 10 p.m., after which she would head home to start her homework. Today, as a Student Success Specialist in South Seattle College's AANAPISI Center, she's using her experiences to advise students on the challenges of college life and preparing for the next step in their academic journey.
"When I'm in an appointment with a student, I'll always mention the fact that I was a transfer student and that I attended a community college," says Vy, who moved from Southern California to Seattle in the spring of 2019 before beginning her new role at South in November. "That will typically spark up a conversation about what college was like for me. I can really relate to the uncertainty they feel as a transfer student, and the sacrifices community college students make to earn their degree."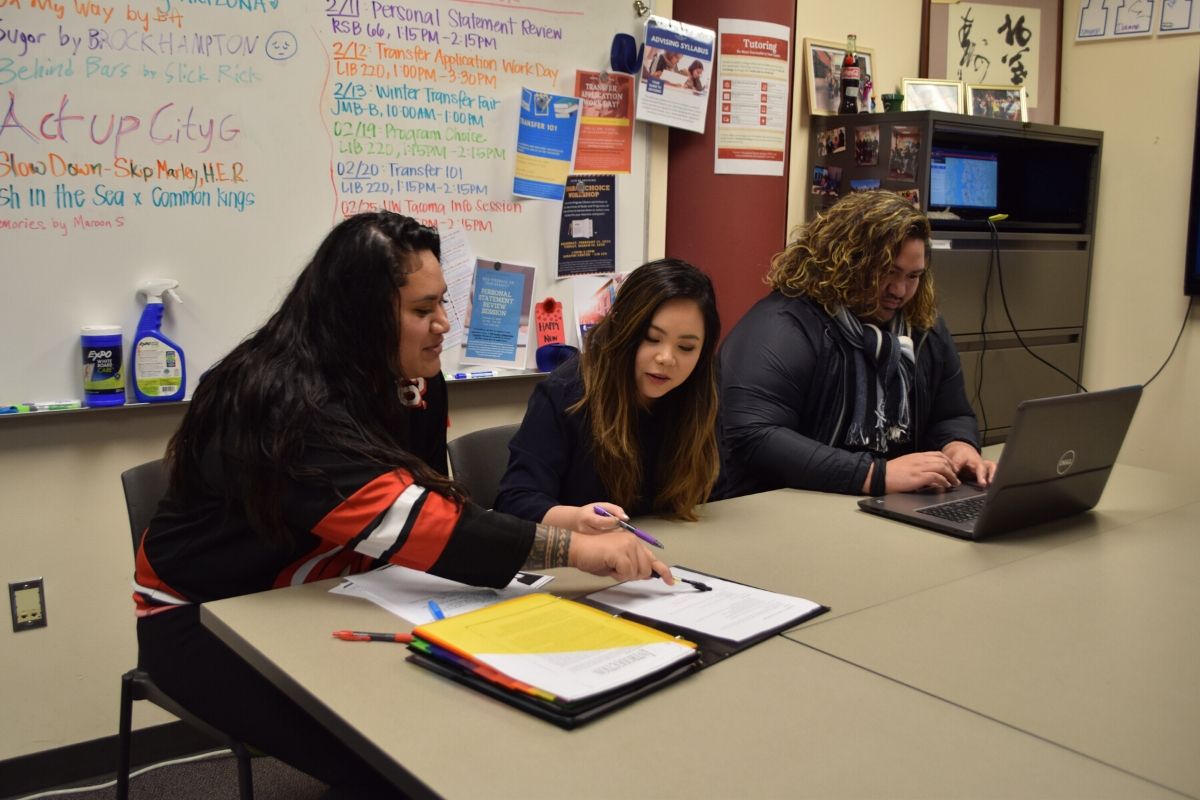 Born near Philadelphia and raised in a large close-knit family in sunny Orange County, California, in high school Vy says she struggled with a highly competitive academic environment and lack of support for someone considering becoming a first generation college students navigating higher education for the first time.
"I never thought college would be a reality for me in high school," says Vy. "It wasn't until I met my ninth grade teacher Ms. Mitchell that I realized I wanted to work in education. She supported me throughout high school by helping me apply to my first job and even helping me sign-up for my first college class. We became super close and I ended up becoming a teaching assistant for her later on, and even used to call her my adopted grandma!"
Mentorship has played a large role in every stage of Vy's life, from high school all the way to graduate school. As a first-generation student at Irvine Valley, she found having a support system and mentor to turn to with questions helped ease her anxieties and motivated her to keep going and achieve more after graduation.
"I didn't understand how to choose a major, apply for scholarships or even how to write a personal statement — these are things they don't teach in school. So being able to ask someone a question without feeling embarrassed was really important for me," says Vy. "It's something I think is one of the most important aspects of my role here at South in the AANAPISI Center. I want to build that sense of trust and connection so my students feel comfortable coming to me with advising and life questions."
As a work study student in Irvine Valley College's Career Center, Vy sought mentorship and guidance from transfer advisors who helped her stay on track through graduation and helped answer questions about the college transfer process. After graduating with her associate degree (AA) in Liberal Studies: Teacher Education, she successfully transferred to UCLA to pursue a bachelor's degree in sociology. It was here that Vy felt a sense of "transfer student pride" for the very first time.
"I always tell my students that they should never hide the fact that they were a transfer student. It's a unique experience, and a big part of your story," says Vy. "After transferring you sometimes feel like a brand new student on campus even though you've already made it through a few years of college on top of work and family life. At UCLA, they acknowledged and embraced that experience, and that was monumental for me."
During her undergrad Vy gained experience as a new student advisor in UCLA's Department of New Students and Transition Programs where she supported around 150 new students alongside seasoned advisors. Helping students find their path in college inspired her to pursue a career in academic advising. After completing her undergrad, Vy applied and was accepted into California State University, Fullerton's Master of Science in Higher Education program.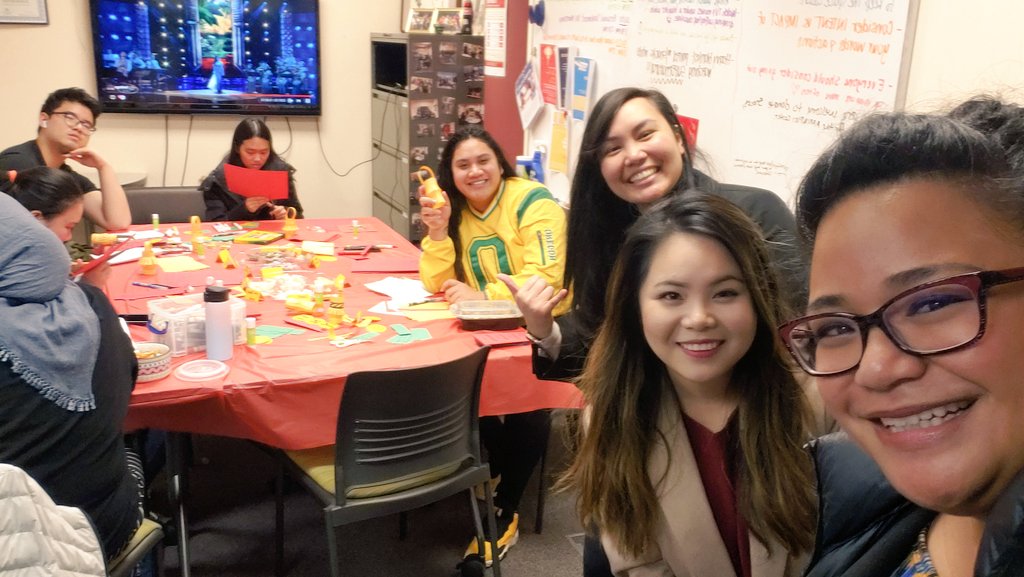 "My graduate program was extremely focused on race, equity, inclusion and social justice," says Vy. "Because the program had such a commitment to break down ideologies and systems, I feel like I've taken that into my life and into my job as an AANAPISI advisor."
Vy hopes to continue the AANAPISI Center's important role on South's campus, providing a "brave space" for students of all backgrounds to feel seen, safe and comfortable on campus. Just as she found mentorship and support at Irvine Valley and UCLA, she hopes students take advantage of the resources available to them on campus, ask questions and seek help as they take the next step in their academic careers.
"Attending a community college fundamentally changed my life and gave me another chance," says Vy. "As an AANAPISI advisor at South, I'm excited help guide students towards a pathway that's right for them and discover a career they love just like I did."
---
The AANAPISI Center at South Seattle College is currently operating from off-campus, as the college has moved to remote operations. AANAPISI staff are still available to support students throughout the quarter, please use the contact information below to connect with an AANAPISI staff member. 
AANAPISI Center at South Seattle College
Location: Library 220
Phone: 206.934.5221
Email: APICenter@seattlecolleges.edu
southseattle.edu/aanapisi