Welcome Back Students! Welcome Week & Town Hall Information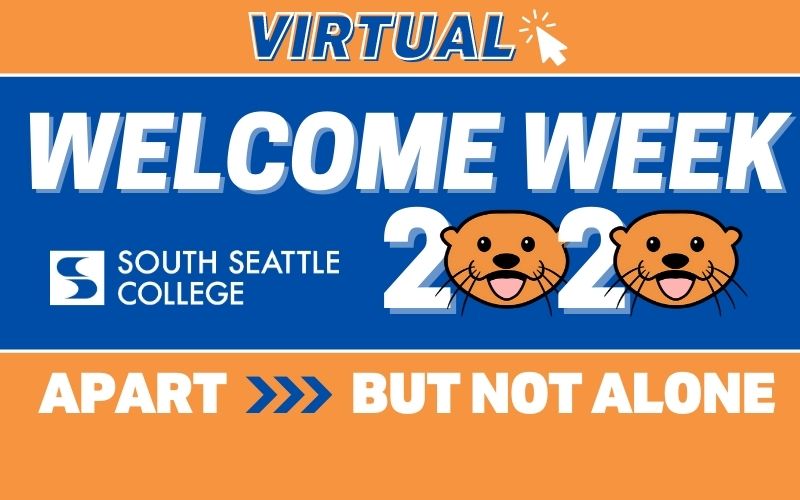 Welcome to Fall Quarter!  I'm grateful to have you as a student at South Seattle College, where we take great pride in offering a quality education and putting our students first. Whether in class or through student services, our goal is to be your partner in success as you achieve your goals.
This quarter most of our classes will be online, and our instructors have been working hard to create innovative and interactive classes in this environment. If you need support as you get started this quarter, please let us know! We are available virtually, and by email or phone. Here are some links to help you connect with important services:
Welcome Week Activities
I'm excited to invite you to Welcome Week 2020 from Sept. 29 – Oct. 2, where we have a weeklong series of virtual events intended to:
Connect you to the South Seattle College community
Meet instructors, staff, and fellow students
Learn about key resources to help you be successful
Get involved
Find out Student Tips for Success
Have Some Fun and Win Prizes!
Check out the Welcome Week Website for full details.
Student Virtual Town Hall on Oct. 5
Once we've all had a chance to settle into our first week, I invite you to join me and the college leadership team for a Student Virtual Town Hall on Zoom from 3-4 p.m. on Monday, Oct. 5. 
This is an opportunity to hear from you and answer questions about your experience or questions for this quarter, and how we can best support you moving forward through instruction and student services.  See you there!
If you would like to submit a question in advance of the town hall, please use this form.
Zoom Information for Town Hall:
Topic: SSC Student Virtual Town Hall - Fall Quarter 2020 (Oct. 5)
Time: Monday, Oct 5, 2020 3:00 PM
Meeting ID: 982 5766 0976
Passcode: 529344
Join by Web: https://zoom.us/j/98257660976?pwd=TGhxQTgyMnc0VnVTTjJON0VOeStuUT09 
Thank you and my best wishes for fall quarter!
Sincerely,
Dr. Rosie Rimando-Chareunsap
President, South Seattle College