Dr. Yilin Sun Receives U.S. Department of State Award for Decades of Contributions to English Language Specialist Program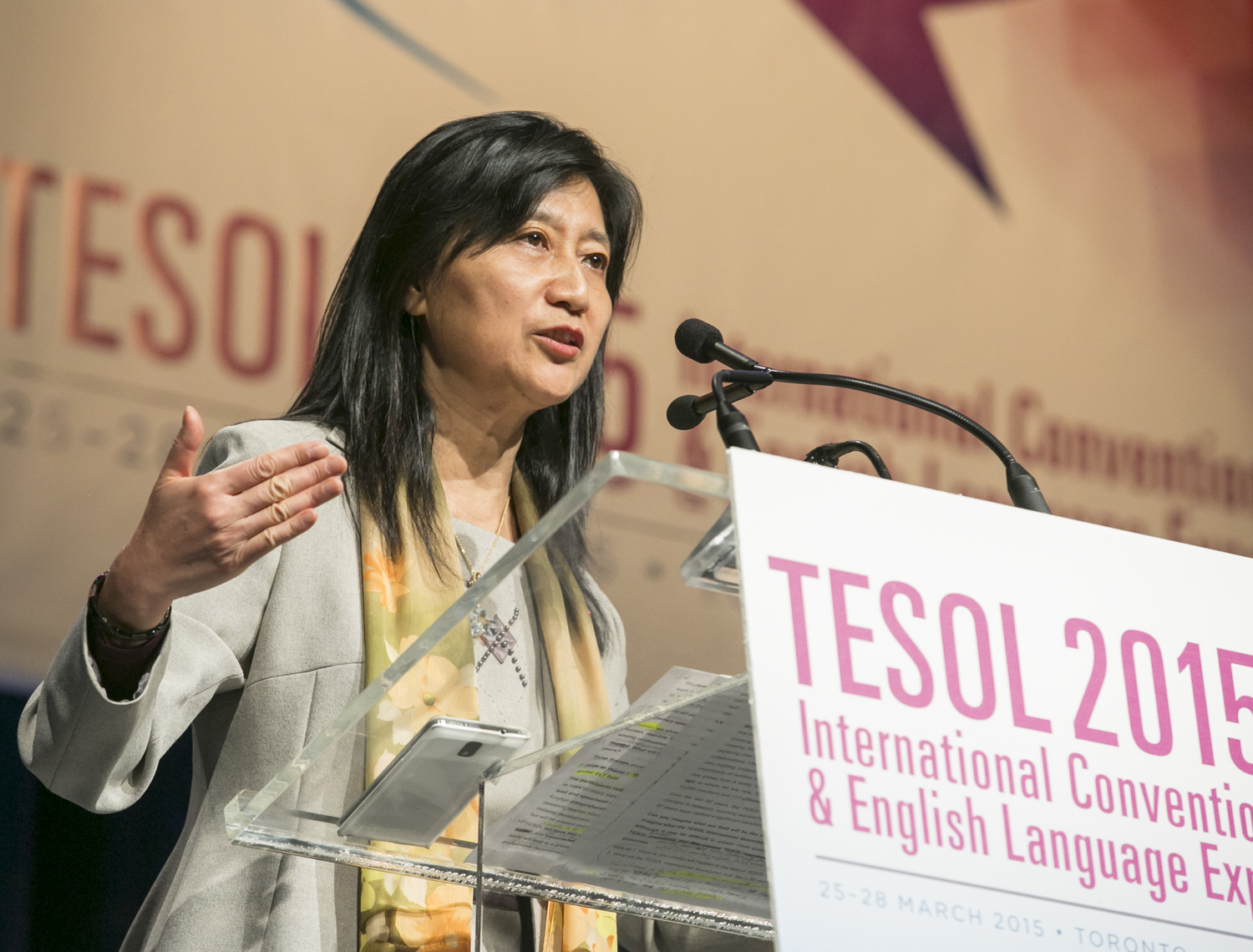 Dr. Yilin Sun, who has spent the majority of her 30-plus year career teaching English as a Second Language (ESL) courses at South Seattle College (SSC) and Seattle Central College, has been recognized as a top-30 contributor to the U.S. Department of State's English Language Specialist Program. The specialist program is celebrating its 30th anniversary in 2021.    
The "30@30 Award" recognizes Dr. Sun as one of a select group of thirty specialists who have made a lasting impact on the specialist program and on the TESOL (Teaching English to Speakers of Other Languages) field since 1991, building English teaching capacity abroad and bolstering mutual understanding through English language education. 
The 30@30 awardees will be honored throughout the anniversary year with featured stories on the English Language Programs website, in presentations at the Virtual 2021 TESOL International Convention, as expert panelists in online webinars, and at an Appreciation Luncheon and Awards Ceremony in October at the U.S. Department of State in Washington, D.C., conditions allowing.
Dr. Sun is a tenured faculty member in the Basic and Transitional Studies Division at SSC, and now directs faculty development programs for the Seattle Colleges District. She has served the field of TESOL for over 30 years and has been with Seattle Colleges for over 27 years as a dedicated educator. She is a tireless advocate for racial equity, diversity, and inclusion in higher education and for providing equitable, accessible, and quality education to underserved student populations. She also strives to empower learners and TESOL professionals. Sun has dedicated her professional career to the calling of Crossing Borders and Building Bridges to embrace a culture of inclusion in the TESOL field and higher education.
Dr. Sun is a former president of the TESOL International Association (2013-2016). This was the first time in TESOL's 50 year history that an Asian, female, bilingual Chinese and English speaking ELT professional served as president of TESOL. In 2011-2012, Dr. Sun worked as a Fulbright Senior Scholar in Taiwan.
Below are sentiments shared by Dr. Sun's colleagues: 
Ila De Leon, ESL Faculty Member at South Seattle College:
"Yilin Sun is a fierce antiracist educator and leader in the Transitional Studies at South Seattle College. She advocates persistently for BIPOC students and faculty by pushing for culturally and linguistically responsive teaching in our division. I am inspired by how Yilin leverages her lived experiences and scholarship to lead Seattle Colleges towards the pursuit of equitable educational excellence through campus- and district-wide faculty development that focuses and draws on BIPOC students' cultural wealth and the principles of leading with racial equity, diversity and inclusion."
Anne Levin, ESL Faculty Member at Seattle Central College:
"What makes Dr. Yilin Sun such a remarkable leader and role model is her ability to develop inclusive, equitable and diverse communities, and provide resources which foster critical thinking and creativity. When in her presence, students and colleagues feel welcome and inspired to be their very best selves.  Her advocacy for immigrants and refugees, collaborative spirit and enthusiasm for teaching and learning is heartfelt and contagious to all who have the honor of working with her."
Laura Holland, AEI Faculty Mentor of University of Oregon:
"Yilin Sun has for decades been a fierce trailblazer for TESOL, standing up for EL learners across the globe, spurring us all on through her leadership to greater opportunities for mutual understanding and knowledge. Her own immigrant story colors her every action and with her presentations or workshops, she inspires others to reach new heights. I had the pleasure of working together with Yilin Sun in Peru where her story inspired many teachers both novice and seasoned to take on new learning, to be bold and to take those risks we ask our own students to take daily. As TESOL President she traveled the globe building bridges to new learning, new connections among teachers and learners, and helping us to celebrate all that we share in common and the rich diversity that makes our world and work so incredibly exciting."
Gonzalo Fortun, Office of English Language Programs, US Embassy in Bolivia:
"Yilin was invited to travel and present in Bolivia by the Bolivian Teachers' Association National Convention. Yilin not only did a great work as a keynote speaker at the convention captivating hundreds of Bolivian English teachers with her professionalism and charisma, she also went to local schools and provided training to teachers and future teachers…She met with the English Language IVLP on Demand participants discussing the world of possibilities open for them."
Background on the English Language Specialist Program
The English Language Specialist Program is the premier opportunity for leaders in the field of teaching English to speakers of other languages (TESOL) to enact meaningful and sustainable changes in the way that English is taught abroad, and is sponsored by the U.S. Department of State's Bureau of Educational and Cultural Affairs (ECA) with funding provided by the U.S. government. Specialists work with local teacher trainers, educational leaders, and ministry of education officials to exchange knowledge, build capacity, and establish partnerships benefiting participants, institutions, and communities in the United States and overseas. Since 1991, over 800 English Language Specialists - representing the best of America's educators from all 50 States - have encouraged critical thought and erudition, celebrated their cultural diversity, and showcased their American values and civic engagement strategies to millions of educators and students. In 2020, the program saw a 3000% increase in virtual programming in response to the COVID-19 global pandemic.
For further information, please visit the English Language Specialist Program and U.S. Department of State websites.